At our tech-savvy company, we firmly believe in testing to validate our assumptions. To assess the effectiveness of Reap Card as a tool for employees during business travel, we conducted a comprehensive AB test. In this blog post, we will explore the experiences of two staff members who acted as test variables, using different methods for managing their expenses while traveling. Through their firsthand accounts, we aim to demonstrate how Reap Card can save employees valuable time and streamline administrative work.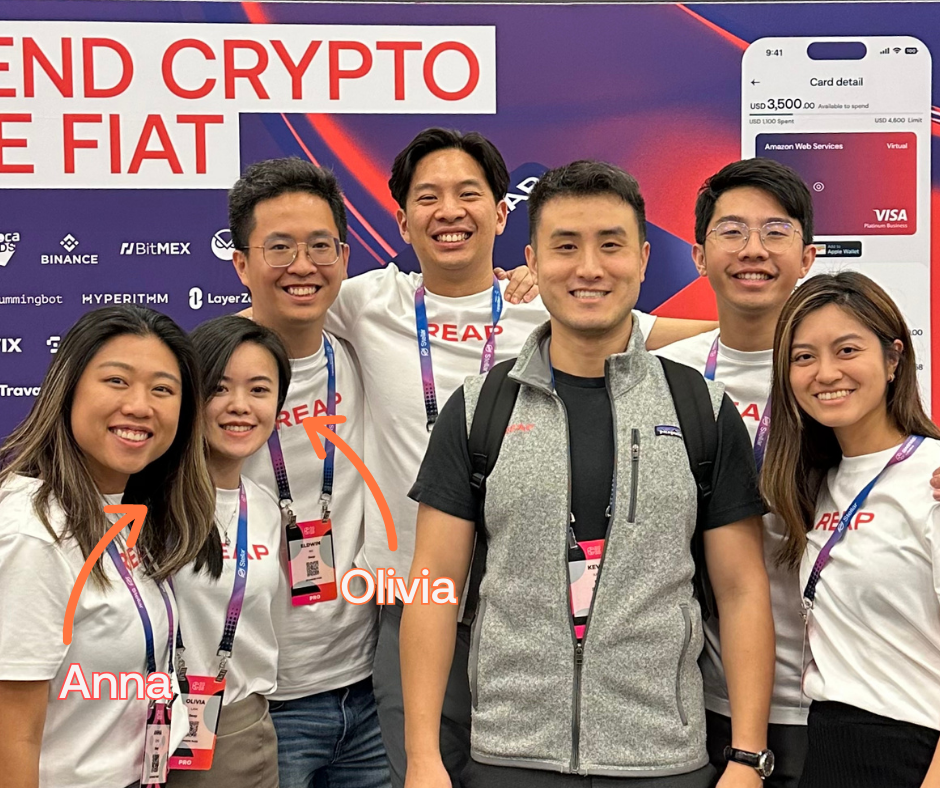 Test Variables: We selected two employees, Anna and Olivia, and assigned them different approaches to manage their expenses during a business trip to Consensus in Austin.
Variable A: Using traditional reimbursement methods (cash and personal credit card)
Variable B: Using Reap Card for all business-related expenses
Anna's Experience (Variable A): Anna opted for the traditional approach of using cash and her personal credit card for expenses during her trip. Here are the key highlights of her experience:
Currency Conversion Challenges: Anna faced difficulties due to currency differences when booking her flight. She had to confirm with the financial controller in advance if the transaction in GBP would be approved for reimbursement in HKD.
Rejection of Transactions: During the trip, Anna encountered an embarrassing situation when her attempt to purchase a coffee at the Consensus exhibition hall was rejected.
Missing Receipts: Anna discovered that obtaining a receipt for cash transactions could be problematic. She struggled to get a receipt after paying for her taco at a food truck, raising concerns about potential reimbursement issues.
Delayed Reimbursement: In one instance, Anna had to use her personal credit card to pay a bill and wait for over 20 days to receive reimbursement.
Communication and Approval Hassles: Anna communicated with the budget owner and financial controller multiple times, seeking approval and clarifications for her flight ticket purchase.
Currency Conversion Efforts: As Anna had cash in HKD, she needed to convert it to USD at money exchange counters, adding an extra step to her financial management.
'I was shocked to find out that I would not be able to get a receipt for my cash transaction at the taco food truck. I had already placed my order, and it was not possible to ask the chef to stop cooking. Without a receipt, I might not be able to get reimbursed. Fortunately, this was just a test. I am not sure what other employees in similar situations would do at other companies.'

- Anna Chu, Head of Product 
Time spent on administrative work: Approximately 2 working hours, including pending approvals and communication.
---
Olivia's Experience (Variable B): Olivia embraced the use of Reap Card for all her business expenses. Here are the key highlights of her experience:
Streamlined Communication: Olivia needed to communicate with the budget owner only once before purchasing her flight ticket, reducing the need for multiple interactions.
Effortless Transactions: Using Reap Card, Olivia made seamless transactions with a simple tap of her card or mobile wallet.
No Reimbursement Required: As Reap Card handles the expenses directly, Olivia did not need to go through the reimbursement process for her trip.
Elimination of Personal Credit Card Usage: Unlike Anna, Olivia did not have to rely on her personal credit card to pay for any business bills.
Real-time Conversion and Currency Exchange: Olivia enjoyed the convenience of not having to constantly check real-time conversion rates or exchange cash for foreign currency.
Time spent on administrative work: Merely 15 minutes.
"A business trip now is a pure opportunity to engage with my clients and focus on growing the company. The pressure of capturing receipts and doing post-trip administrative work is gone. What's more, I can make all business-related transactions via the Reap Card. With the mobile wallet feature, I don't even need to carry my card with me."

- Olivia Lam, Senior Business Development and Partnership Manager
In conclusion, the results of our test clearly demonstrate the advantages of using Reap Card for business travel. Olivia's experience showcases the time-saving benefits, streamlined communication, and hassle-free transactions offered by Reap Card. On the other hand, Anna's experience highlights the challenges and inefficiencies of traditional reimbursement methods. It's evident that Reap Card provides a significant improvement in employee efficiency and eliminates unnecessary administrative burdens.
If you're interested in gaining insights from the financial controller's perspective, we invite you to click here to read our comprehensive case study on how Reap Card revolutionized financial control.
Ready to experience the seamless efficiency enjoyed by Olivia? Reach out to us now and discover how Reap Card can transform your business travel experience.