Dear customers, partners, friends,
Today is an exciting day, as we're unveiling a new brand for Reap. And as co-founders, we wanted to be the first to give you this news, and what it all means for Reap, you, and our future.

We first started Reap because we wanted to provide the simplest solution for businesses to make and accept payments digitally. This meant that our customers could pay all their expenses on credit, get cash flow and accumulate credit card points all through an online dashboard. It's a value proposition that most of our customers still associate us with today. But we've always wanted to do more.
Over the last 3 years, we've had the privilege to meet innovative, passionate and inspirational businesses looking to have an outsized impact on their community. These businesses quickly made us realized that the aspirations of small businesses are bigger than just payments. And to help fulfill these ambitions and aspirations, Reap too had to evolve.
We wanted to continue to use what we know best (technology, software) and build tools that every organization should have, giving you the freedom to make payments how you want, to access financing how you want, to manage business operations how you want...etc. The list goes on. Our mission is to develop new software to fuel the ambition of businesses, so they can operate at their potential and not their size.
To date, we don't think we've done a good enough job in connecting this mission to the products and partnerships we've developed. And so, we finally decided that we must ask ourselves some tough questions; about who we are, why we exist, and how do we represent our values in a concise, tangible, and accurate brand suitable for Reap.
What does our new brand mean?
The Reap brand focuses on every business' unique growth journey. We want to fuel their ambition and their journey from where they are today to where they want to be tomorrow. While we can tell you what our products and features do, we also want the brand to answer questions like "why? for whom? and how we do it?".
Our mission is to develop new software to fuel the ambition of businesses, so they can operate at their potential and not their size.
We decided to keep our logo simple and straightforward, but ignited with a signature colour that's vibrant and energetic. We want to support customers at every stage of their business journey: whether they need an infusion of speed or simplicity.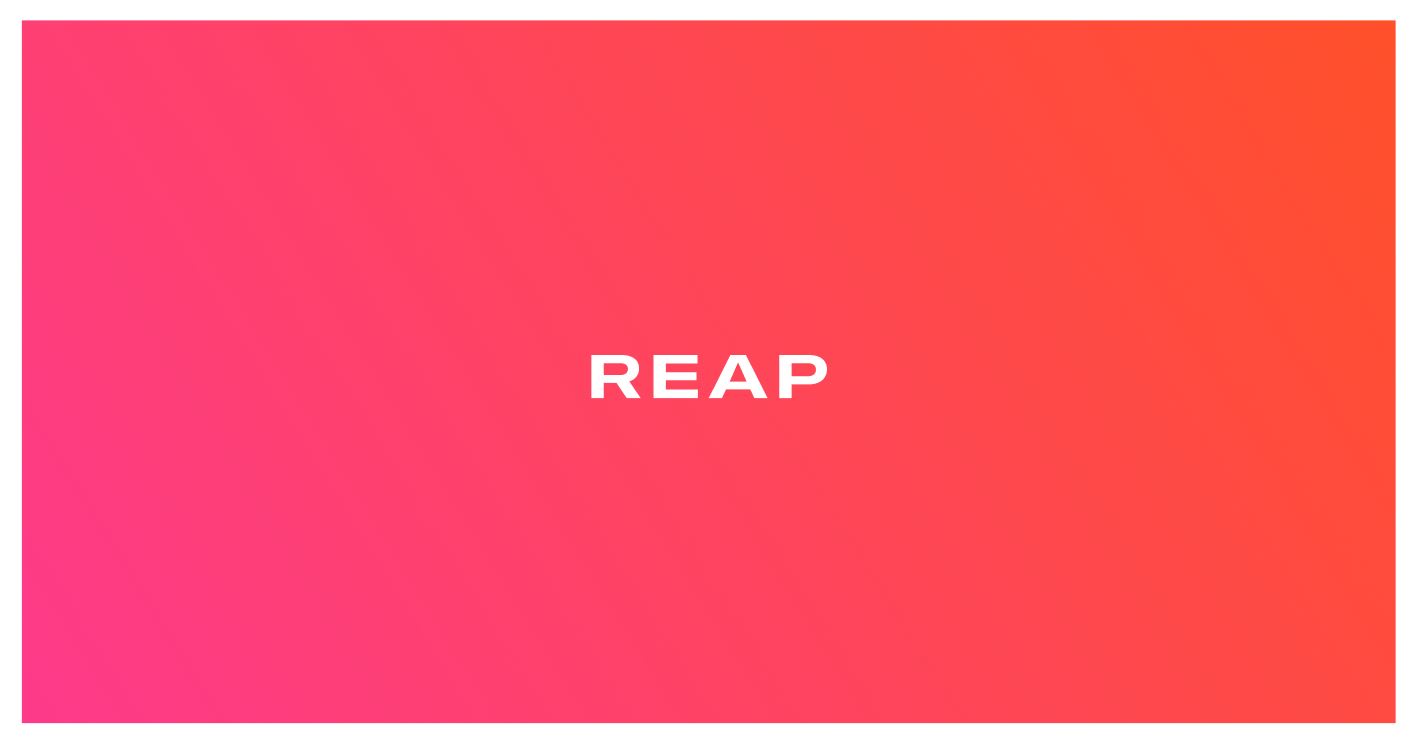 We've also added the fingerprint graphic to represent the uniqueness of every company's journey, from start to growth to transformation.

Our mission, at the core of our brand, is something that remains unchanged. It is where the genesis of all of the new elements draws its inspiration from. Putting all these ideas together led us to everything on the new website today. Just to give you a few examples of what this looks like: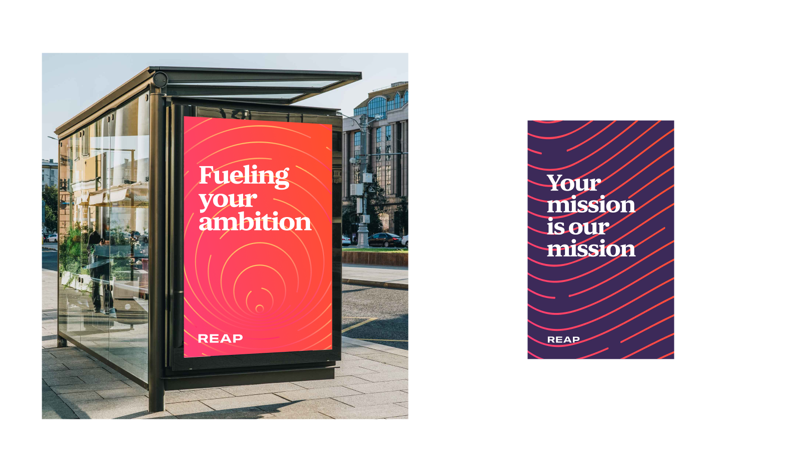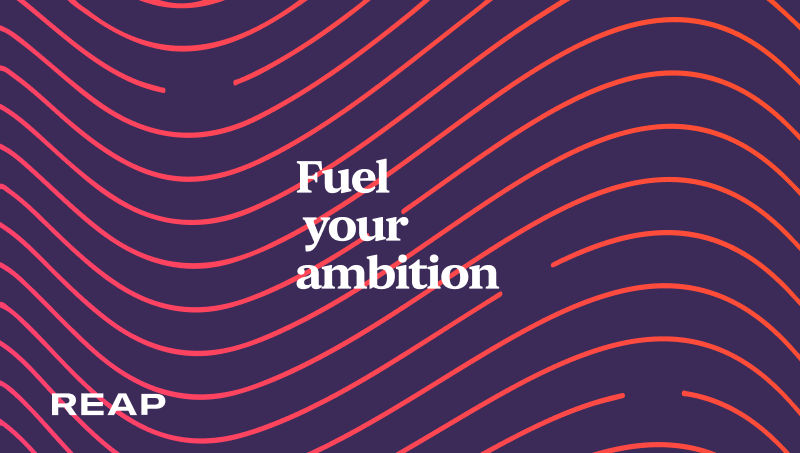 Beyond that, we believe that the brand includes non-visual components as well. In terms of the way we plan to operate; both internally and externally, we will embody the following qualities:

Why should you care?
It may seem like all of this work is simply to refresh the overall look and feel of Reap, and it may seem like there is no impact to you, our customers and partners. But we want to stress that Reap's brand is also a commitment from us to you; that the message we are trying to convey is a true representation of who we are and who we want to be. We want you to know the following whenever you interact with us:
What our mission is, and that we will deliver on our mission
We believe this mission for ourselves, as much as we do for you. We are a growing business that wants to operate at our full potential as well
Hopefully, by committing these things we can build clearer communication and allow you to hold us to a certain standard. Because you will know what to expect when working with Reap, how we're different, and how we will continue to innovate.
Lastly, our brand is here to encourage you to remain proud, optimistic and ambitious, despite the ups and downs that we all encounter in building a business. Every representation of Reap that you interact with should be a reminder, that we're incredibly amazed by you as a business operator; big or small. And you and everyone around you should be too.
It's not easy to build and grow a business, but the ambition and potential along the way is what drives us.
What's next?
Starting from today, the new branding will apply to our communications, website, and dashboard. Soon you'll also be able to see it applied to other products we're developing, like cards and invoices.
Everything you see and experience as part of the new brand will be us delivering on the promise of our mission. We hope it will mean as much to you as it does to us.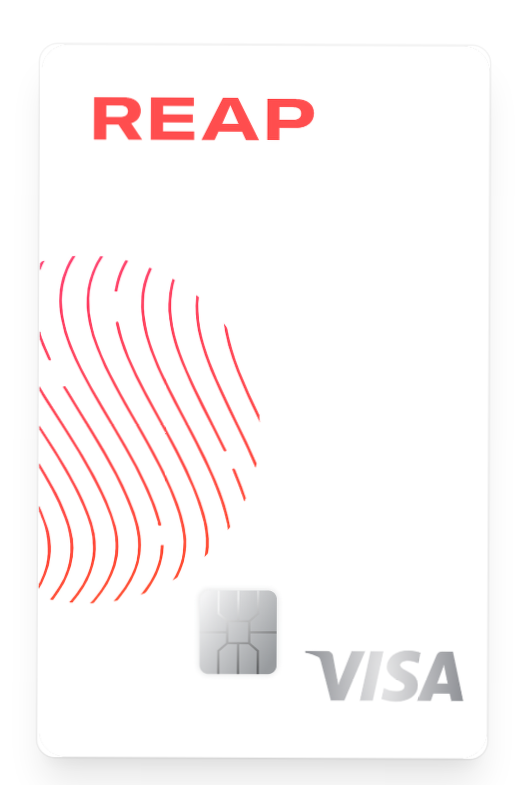 Daren and Kevin