It's generally known that start-ups and SMEs are seriously affected by the COVID-19 Pandemic, but do we really know how serious the effect is? Are there any industries that are not affected? Previously, in the form of a survey, Reap has asked nearly 400 business owners about their operations under the epidemic. Want to know more about this? Let's read the article below.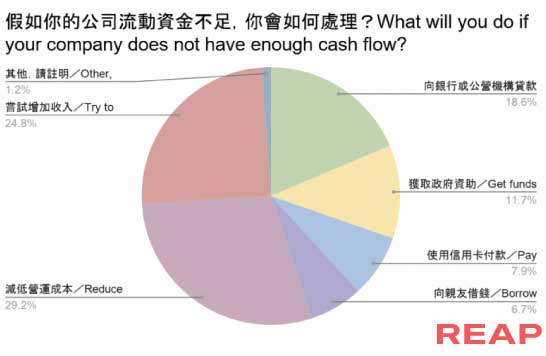 Poor management on cash flow From the result of the survey, we can see that the most critical problem of SMEs is their cash flow. This is the reason why Reap emphasizes so much of the importance of cash flow. We understand it is very common to think that income is the most important for a company. Yes, it is indeed undeniable that income is crucial, but in fact, cash flow is the main factor to decide whether your business can keep flowing. According to the Small Business Administration in the US, insufficient cash reserves is one of the most common reasons for the failure of start-ups. Although the data isn't from Hong Kong, it still has its value of reference to us. That's why Reap always advocates that companies should have a healthy cash flow.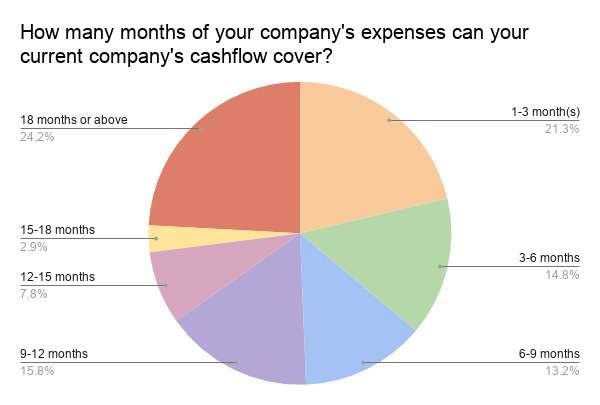 How much is considered a healthy cash flow? In fact, cash flow is calculated monthly, which having a cash reserve that's enough to pay off 3-6 months of business expenses is considered as a healthy cash flow. However, we can see that only 17.2% of the respondents have the correct concept of cash flow. Most of them believed that cash flow is something the more the better, which reflected that employers in Hong Kong are relatively conservative in financial management.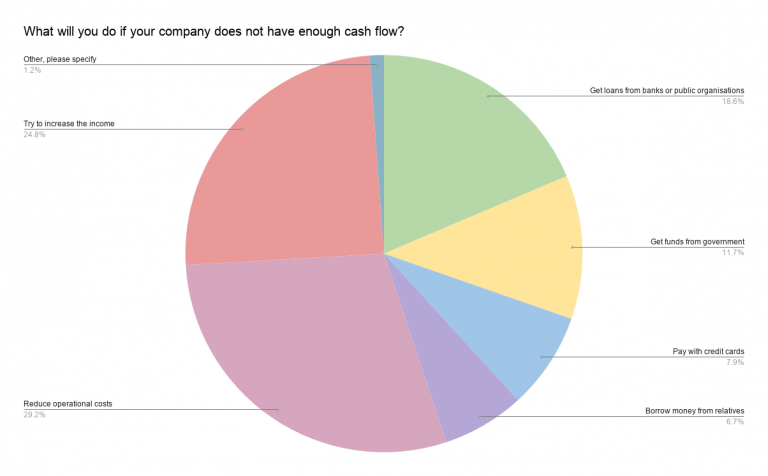 In the survey, more than half of the business owners aren't managing their cash flow properly, which causes the phenomenon of extremely huge or extremely limited cash flow. 21.3% of the respondents' cash flows were only able to handle business expenses for 1-3 months, while 24.8% of the respondents' cash flow could handle those expenses for 18 months. There were only 14.8% of the respondents who could satisfy the standard of a healthy cash flow. Limited cash flow may cause your business to bankrupt anytime, while excessive cash flow implies that cash isn't fully utilized to develop their businesses.
Conservative methods on funding resources The survey has also asked the business owners what they would do during a cash shortage. As we expected, credits and loans are still taboo for local businesses. In Asian culture, most people prefer settling payments in cash, instead of borrowing. It is found that 29.2% of the respondents mentioned that they would reduce operating costs, and only 7.9% would use innovative methods, such as credit cards, to improve cash flow problems.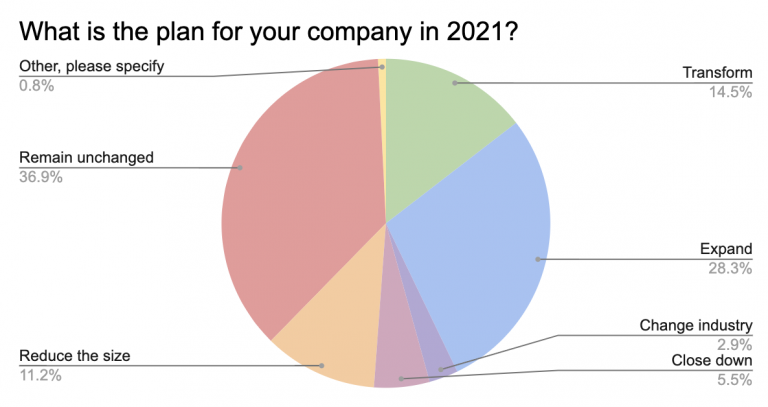 Excessive cash can be easily solved but what can we do if cash flow is too little? In fact, we can use Reap to pay our cash bills or expenses by credit cards. Utilizing the interest-fee payment period, businesses can increase their cash flow, and the saved cash can be used on company operations in order to earn more revenue.
The situation may not be as bad as imagined In the survey, Reap has also asked the bosses how their company operations were affected under the epidemic ranging 1-5. The average score was 3 out of 5, which showed that many industries were still doing okay under COVID-19. Among various interviewed industries, construction, finance, and information technology industries indicated that they were totally unaffected, while fitness, trading, and media industry were seriously affected.
Be that as it may, the vast majority of respondents indicated that they planned to maintain the current mode or to expand in 2021. Such decisions took as high as 65.2% out of all respondents. Compared to others, only a total of 16.7% of respondents planned to shrink their size or close the business in 2021. It can be seen that the market no longer takes the epidemic as an "adversity" but the new normal.